Ixia is a popular, yet relatively small town located in the northwest corner of Rhodes. Ixia is almost fused with the neighboring town of Ialyssos. Set on the northwest tip of Rhodes, Ixia is a rather small resort close to Rhodes Town.
Ixia beach
Ixia has a long beach with a mixture of sand and pebbles. The water is crystal clear with a pebbly shoreline.
The beach is divided into many sections, most of them organized and operated by the large seafront hotels. However, you will also find public sections with sunbeds and umbrellas for hire.
The bay of Ixia often has moderate winds making it popular with windsurfers and kitesurfers.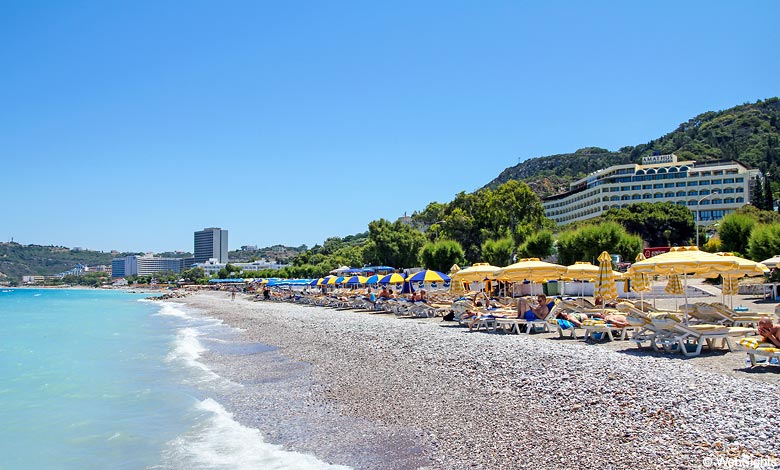 Child friendliness
Ixia's pebble and shingle beach is rather unsuitable for children.
Watersports
The main watersports in Ixia are windsurfing, kitesurfing and jet-skiing. There are two water sports centres providing windsurfing and kitesurfing equipment as well as jet-skis.
Beach restaurants
Ixia beach provide a wide range of restaurants and bars.
Ixia resort
Ixia was one of first purpose-built resorts to be developed in Rhodes. It is a rather quiet family holiday destination with many top hotels. Many of the hotels are set in landscaped gardens equipped with large swimmingpools and sunbeds, a good example is the 4-star beach front hotel Oceanis Hotel, which is very popular with guests.
The resort has around 25 restaurants to choose from. Nightlife is made up of several bars and two nightclubs.
A 10-minute drive gets you to the capital of Rhodes. Here you can explore the Old Town or take advantage of the extensive shopping opportunities.
---
Ixia beach map
Ixia is located between the larger resort town of Ialyssos to the west and Rhodes City to the northeast, so there is only short ways to a lot of good experiences for the whole family.