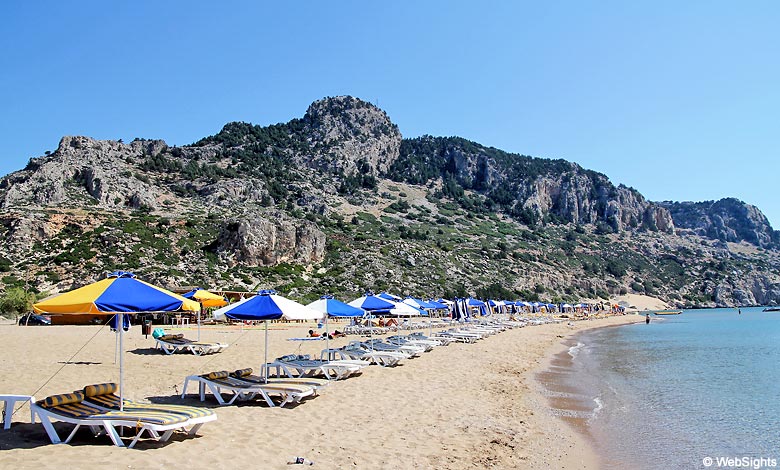 Tsambika is one of the most beautiful beaches in Rhodes. It is situated on the eastern coast of the island, about 26km south of Rhodes town.
The beach has taken its name after the Monastery of the Virgin of Tsambika, a tiny monastery some 340 metres up the hill. From the car park there are 297 strenuous steps to the top, but the fantastic view over Tsambika Bay is definitely worth the effort.
The beach in general
Tsambika is a picture perfect beach, which stretches between mountainous headlands.
The 800 metres long and very wide beach has fine golden sand and only a few pebbles. The turquoise water is shallow and crystal clear. Facilities at the beach include sun beds, umbrellas, several restaurants and a mini-market.
The southern part of the beach is considered as a nudist beach, but officially it is not.
Child friendliness
Plenty of space for playing and shallow water make Tsambika beach very suitable for children of all ages.
Water sports
There is a good choice of water sports at Tsambika beach.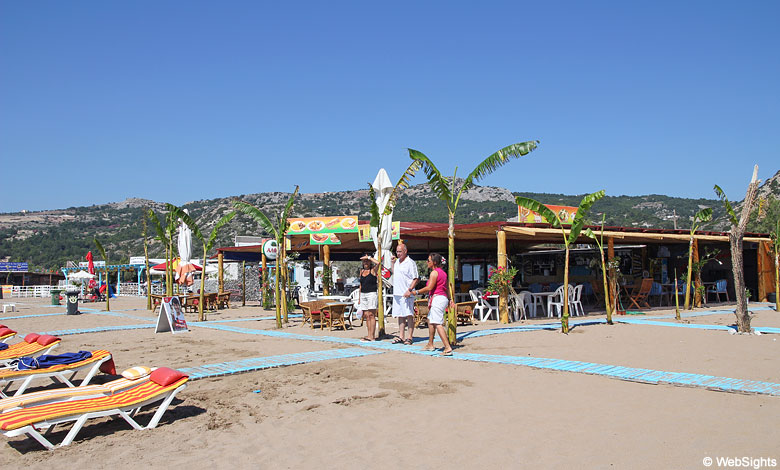 Beach restaurants
There are several beach restaurants, which also serves as beach bars.
Resorts close to Tsambika
Kolymbia is located a few kilometres to the north of Tsambika and the small resort of Stegna is located a few kilometres to the south.
---
Tsambika map