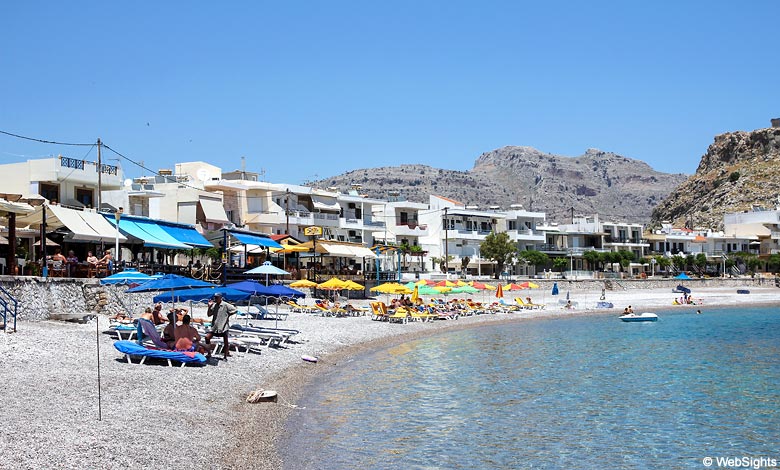 Haraki, also called Charaki, is located thirty-six kilometers south of Rhodes Town on the east side of Rhodes.
The city has a distinct Greek charm and is completely free of large hotels. The only hotel in the city with a swimming pool is the 3-star Hotel Alia Luxury Suites, which receives very positive reviews from its guests.
The beach in Haraki
The beach in Haraki is located next to the small harbor of the city, where a few fishing boats.
From the beach you have a beautiful view of the harbor, the water and the mountains. It's all in a nice, quiet atmosphere, as the beach is rarely crowded. The beach is partly covered with sand and partly with pebbles. The water is crystal clear, but there are some stones on the ground.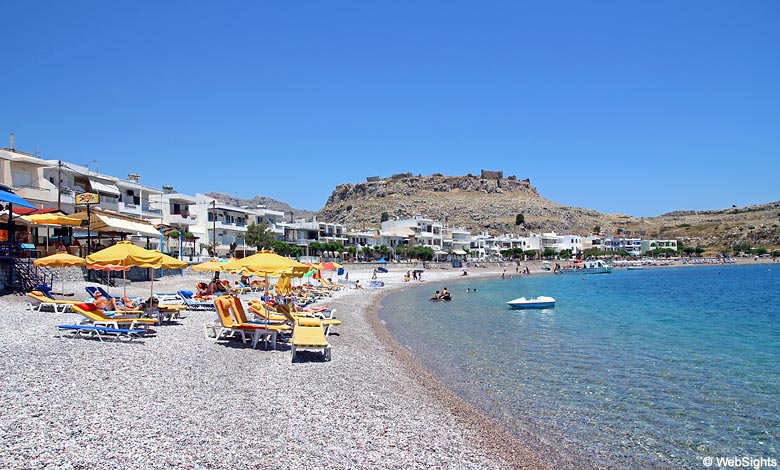 Sunbeds and umbrellas are rented on parts of the beach, while showers and toilets are available free of charge. Parking is free in the streets behind the beach.
Child friendliness
The water is very calm but gets deep relatively quickly. Fortunately, the very child-friendly sandy beach of Agathi is only a fifteen-minute walk away.
Water Sports
There are no water sports in Haraki, but the bay is good for snorkeling.
Beach restaurants
There are several restaurants along the seafront. The menus vary, but Greek food dominates, not least fish dishes. We highly recommend the fish restaurant Argo Restaurant; the fish dishes are delicious and the view from the restaurant is impressive.
The resort of Haraki
Haraki is a small but charming fishing village with a quiet atmosphere. The city is ideal for couples and families with children who want to spend a relaxing holiday and prioritize nature over all-inclusive hotels.
Haraki is located in a beautiful bay that has the shape of a semicircle. Along the bay there is a beach promenade with restaurants, cafes and mini markets. From here, the views are breathtaking, and some of the restaurants also offer breakfast.
When it's time for a little hike, it's a good idea to walk to the ruins of Feraklos Fortress. They are located at an altitude of about one hundred meters and the view from there over Haraki and Agathi is incredible.
---
Map of Haraki
Haraki (Charaki) can be seen in the middle of the map. The remains of the fortress of Feraklos are located just northeast of the city. A little further north is the beach of Agathi. The nearest holiday resort in the south is Kalathos.