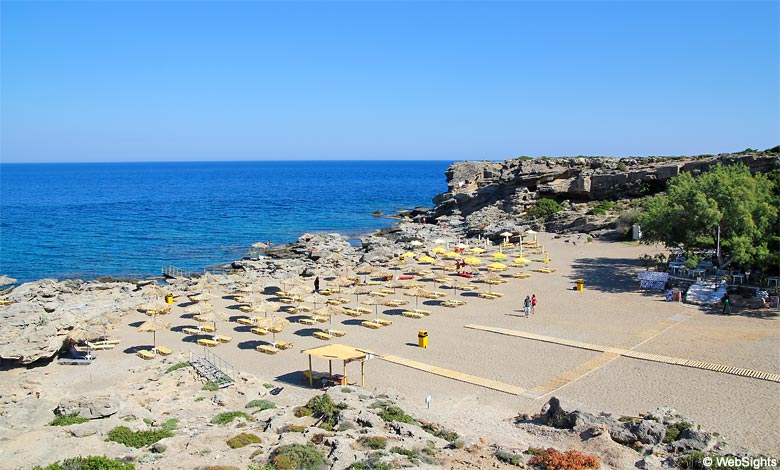 Kokkina beach is located between the two holiday resorts, Kalithea and Faliraki, in the northern part of Rhodes. The beach shares a parking space with the museum and the beach Kalithea Springs.
Kokkina beach
Kokkina (also known as Kokkini) is a beach with a mix of sand and rocks. There is a large sand beach section with sun lounges and sunshades, whereas all bathing takes place from the rocks.
The water is extremely clear and it is possible to swim from the flat rocks or use the staircase into the water.
The beach is rarely crowded and it is therefore a good alternative to the more popular sand beaches in the area. There is access to toilets.
Child friendliness
The rocks are not suited for small children, but there is plenty of room to play in the sand.
Water sports activities
None, the beach is completely peaceful. The snorkelling conditions are rather good.
Beach restaurants
There is a single plain restaurant/café. On the parking space, you can buy ice cream and drinks.
Kalithea as a holiday resort
The small holiday resort Kalithea is located a few kilometres north of the beach. Kalithea is a relaxed holiday resort with a small selection of restaurants, cafés and shops.
South of Kokkina, you'll find Faliraki, the largest holiday resort in Rhodes.
---
Kokkina beach map