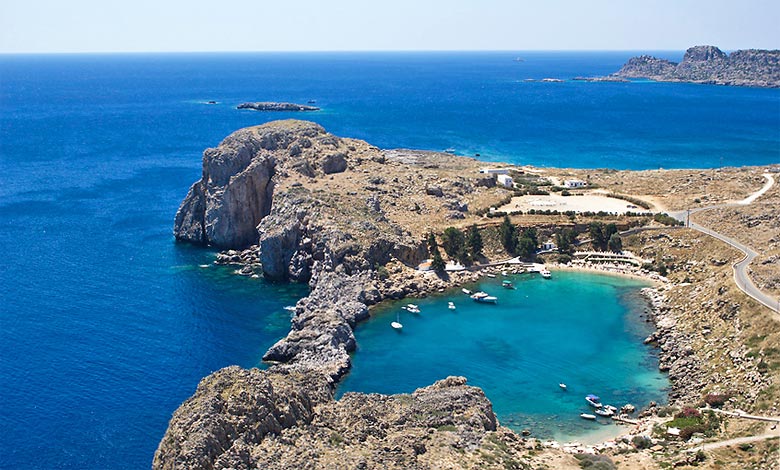 St Pauls Bay is a picturesque bay just south of Lindos on the southeast coast of Rhodes.
It is claimed that St Paul landed here in the year 51 AD to preach Christianity to the Rhodians. The small church built on the hillside is a very popular wedding location, most likely because of the beautiful views of the bay and Lindos Acropolis.
The beaches in St Pauls Bay
There are two beaches in the bay. The large beach (photo above) in the southern end is a manmade beach with golden sand. The smaller beach (photo below) at the northern end of the bay is a mix of sand and gravel.
Facilities at both beaches include sun loungers, sun shades, toilets and a café. Parking is possible close to the beaches. Both beaches in St Pauls Bay are relatively uncrowded and very relaxed.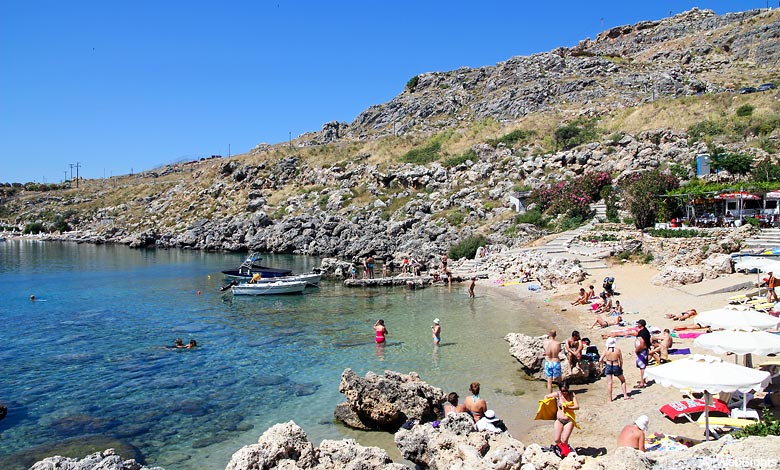 Water sports
The bay is a great place for snorkelling and diving. No other water sports.
Beach restaurants
You will find a café at both beaches.
Lindos Village
The lovely village of Lindos is one of the most attractive and beautiful villages of Rhodes and an idyllic holiday destination.
The village is full of whitewashed houses with pebble-paved courtyards, narrow alleys and painted ceilings. Hotels of all categories as well as restaurants, cafés and bars can be found in and just outside Lindos.
Above Lindos rises the Acropolis of Lindos, a feast of delightful ancient architecture and spectacular views. It can be reached by foot or donkey.
---
St Pauls Bay map