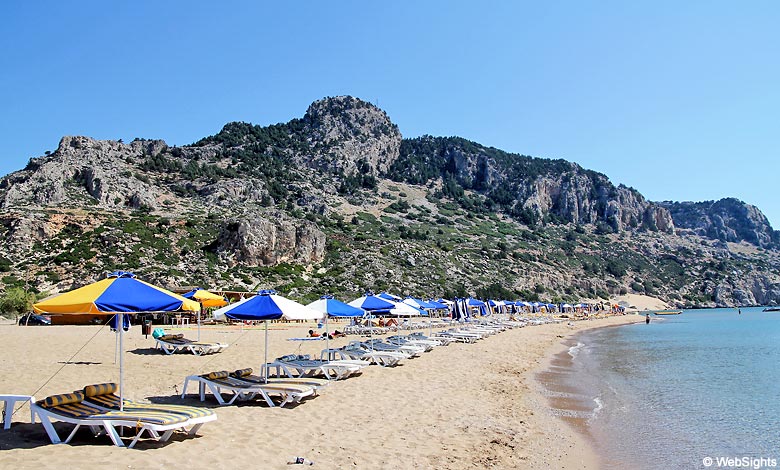 Rhodes is a relaxed and popular holiday island in the Greek Dodecanese. The distance to the capital, Athens, is more than 400 km, whereas the Turkish mainland is only 18 km away.
The Mediterranean climate in Rhodes is among the best Europe has to offer. Early spring, long late summer and at least 300 days of sun a year. The rather constant Meltemi winds ensure that the weather rarely becomes too hot and also offer favourable conditions for windsurfers on the north-west coast of Rhodes.
The beaches offer great variations, but the family-friendly sand beaches are concentrated along the east coast. One of the most popular ones is the town beach Elli near the city of Rhodes, which is also the capital, the long sand beach near the holiday resort Faliraki and the amazing natural beach Tsambika north of Lindos.
See our list of the best beaches in Rhodes.
On the north-west coast, you will find the famous holiday resorts Ialyssos (photo above) and Ixia, and even though these beaches have more rocks and wind, they attract many tourists. The almost constant winds make these beaches very popular among wind and kitesurfers and international competitions are often hosted on the north-west coast.
Prasonisi on the south point of Rhodes is also a paradise for wind and kitesurfers, but in addition to that, it is also a great natural experience. At high tide, Prasonisi is an island, but at low tide, a sandhill makes it into a peninsula. The protected turtle Caretta caretta breeds on this beach, so help take good care of it.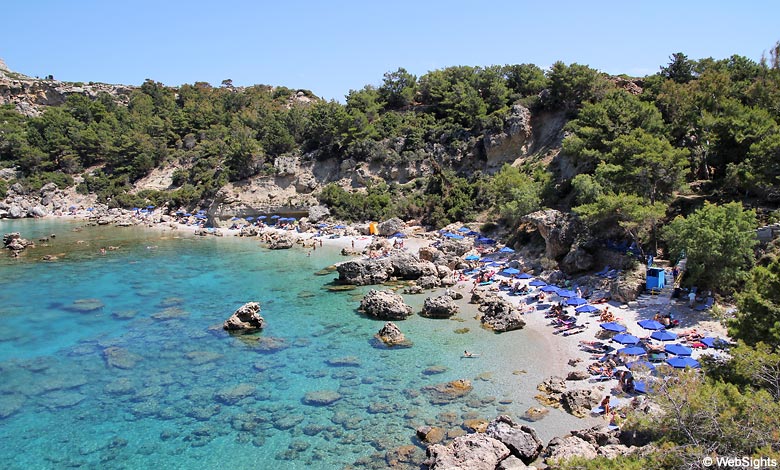 The beach Anthony Quinn (photo above) is famous for entirely different reasons. After having filmed parts of "The Guns of Navarone" in this area, the actor Anthony Quinn bought this beautiful bay and the surrounding land. He wanted to establish an international film centre, but had to drop the project. However, the beach kept its name and is now a popular attraction.
If it is time for some recreation apart from the beach life, there are many options. Those with an interest in history should visit the Lindos Acropolis, which is located high above the ancient antique town Lindos. The old quarter in the city of Rhodes is not quite as old, but still very charming and interesting. You can also spend a day away from the beach in Faliraki Water Park, which is the largest and most amusing water park in Rhodes. Or visit the Filerimos monastery from where it is possible to see all the way to the coast of Turkey on days of clear weather.
Click on the beaches in the menu to see more descriptions and photos.