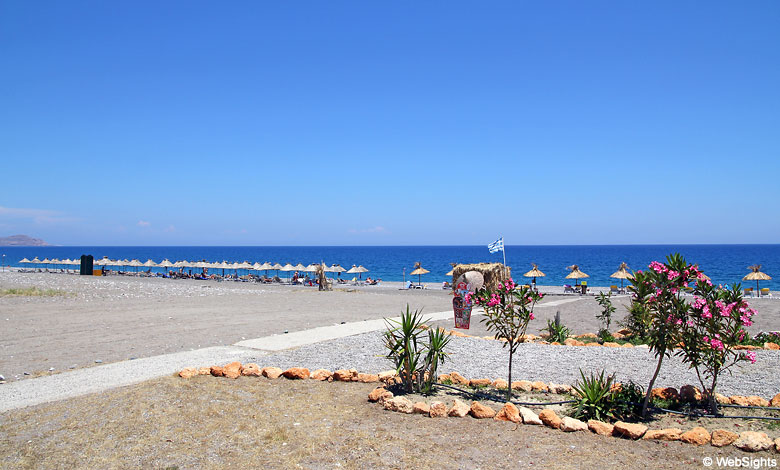 Kalathos is located around the middle of the east coast of Rhodes. The historic town of Lindos is located around 3-4 km to the south, while the international airport is just under 50 km away.
The beach in general
Kalathos has a nearly 4-kilometer-long beach, located between the two small bays of Haraki and Vlycha. However, only the southern part of the beach is actually considered Kalathos.
The beach has several areas with sunbeds and umbrellas, all in connection with a beach bar. The most touristy area is in front of the large holiday resort Atrium Palace, where there are also a few shops. Further north there are large areas where it is possible to be alone and enjoy the beautiful scenery.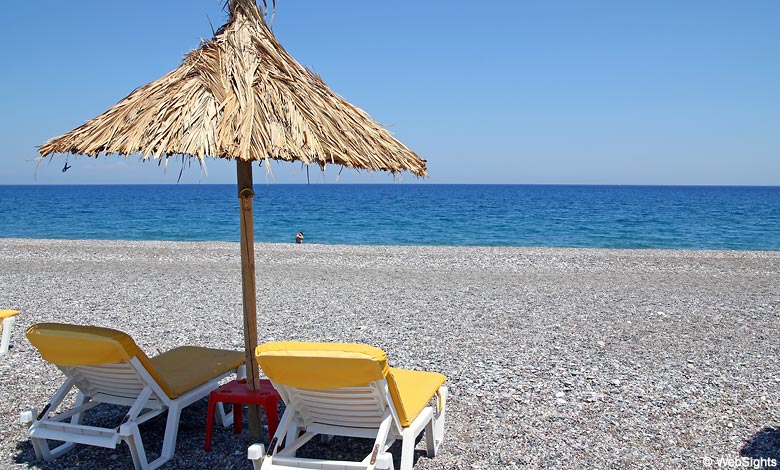 The beach is covered in gravel at the back of the beach, while there are pebbles at the water's edge and in the water. The water is crystal clear and inviting, but unfortunately it quickly gets deep. Usually there are no significance waves.
Child friendliness
The rust, pebbles and relatively deep water make Kalathos less suitable for children. The beach in the neighbouring town of Vlycha is more child friendly.
Water sports
Next to the Hotel Atrium Palace right on the beach there is a small watersports centre where it is possible to try various water activities, such as jet skis and banana boating.
Beach restaurants
In the south of the beach there are 4-5 beach cafes serving cold drinks, ice cream and various simple dishes of food. Ideal for a day at the beach.
The town of Kalathos
Kalathos consists of three areas, but the area along the main road is considered the actual city. The area is about 800 meters from the beach and has a few shops, restaurants and a small bakery. A little further inland is the somewhat simple original district.
It is possible to take the bus to, for example Lindos, but there are far more experiences waiting for those who rent a car. Drive, for example, to the beautiful Tsambika beach or go on a full-day trip to Rhodes City, which is only a 45–50-minute drive away.
---
Kalathos on the map
Right below the center of the map is the most lively part of Kalathos, which lies along the main road. The large holiday resort of Atrium Palace is located to the right of the centre of the map, which is where you will find the most beachgoers.