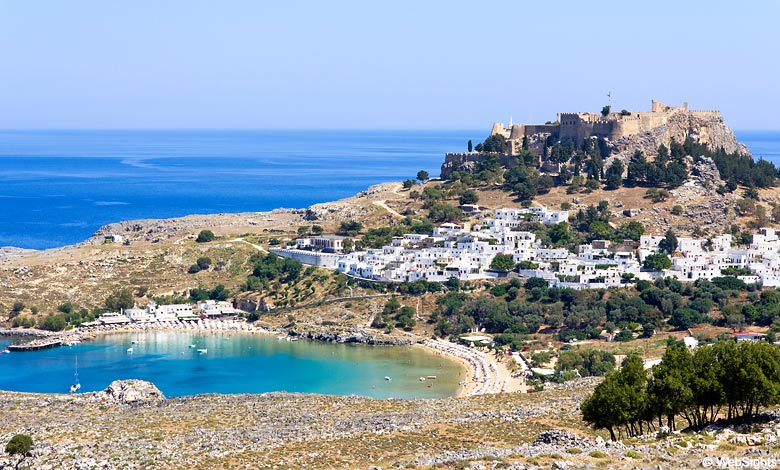 Lindos is a picturesque village located on the south east coast of Rhodes.
The beaches
Lindos has two very popular beaches, both within walking distance from the town.
Megali Paralia is the main beach in Lindos. Its name means big beach and it is in fact the largest beach in Lindos.
The other beach, Lindos Pallas, is smaller and relatively quieter than the main beach.
Both beaches have fine golden sand. The water is clear and shallow. Services include sunbeds, umbrellas, changing facilities and restaurants.
The various paths down from Lindos village are quite steep and it can be a heavy uphill slog home after a heat-soaked day at the beach.
Child friendliness
The beaches have fine sand and shallow water. This makes the beaches ideal for families with children.
Water sports
Sea kayaks, pedalos and boat trips.
Lindos Village
The lovely village of Lindos is one of the most attractive and beautiful villages of Rhodes and an idyllic holiday destination. It is full of whitewashed houses with pebble-paved courtyards, narrow alleys and painted ceilings. Various accommodations of all categories as well as restaurants, cafés and bars can be found in Lindos.
Above Lindos rises the Acropolis of Lindos, a feast of delightful ancient architecture and spectacular views. It can be reached by foot or donkey.
---
Lindos beaches map