Most associate the Acropolis with Athens, but the Greek capital is not the only one having an Acropolis. They were very common in ancient Greece, and the Greek word "acropolis" translates to something like the highest city.
An acropolis served two purposes, partly as an impregnable fortress and partly as a religious place. This also applies to the Acropolis, which is located high above the city of Lindos on Rhodes. Lindos itself is an interesting city, and the only one of the three original ancient cities in Rhodes that still exists.
The access to Lindos is through the old city gate, and from here you stroll around the narrow, winding alleys with whitewashed houses. Most houses have dark wooden doors with fine carvings, and at the so-called captain's houses, thousands of small colored stones form beautiful pictures and inscriptions.
From the city you can look up to the Acropolis, located on the 111-meter-high cliff of Monte Smith. The rock is named after the English Admiral William Sidney Smith, who was stationed on the island in 1802. The trip up there takes about half an hour when hiking. We recommend taking the trip early in the day before it gets really hot.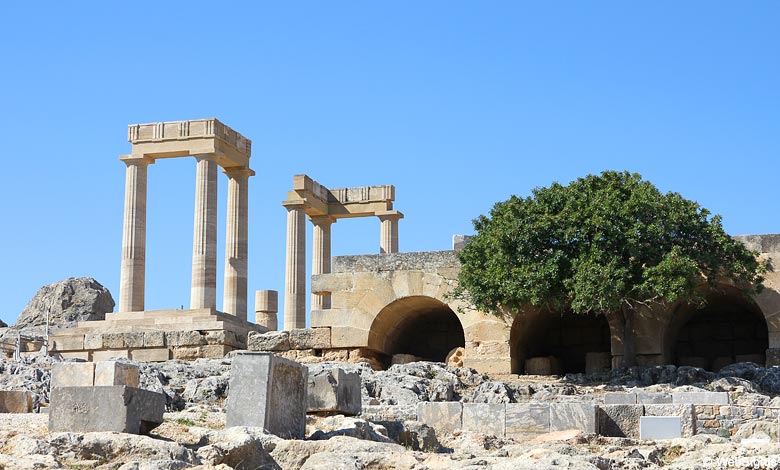 The trip can be strenuous, but the rewards are well worth it. Lindos Acropolis is impressive, especially considering that the great temple with its tall Doric columns was built in the 4th century B.C. The temple was built in honor of the goddess Athene, who was the goddess of wisdom in Greek mythology and daughter of Zeus.
Subsequently, the Lindos Acropolis was expanded by ancient Greeks, Romans and Byzantines. In the 1300s, the Knights of the Maltese Order converted the Acropolis into a regular fortress, and it was further expanded by the Ottomans when in 1522 they ousted the Maltese Order from Rhodes. Since then, the military importance of the Acropolis diminished more and more, and by 1844 it was not used for military purposes anymore.
A bonus of visiting Lindos Acropolis is the amazing views. On days of clear weather, it is possible to look all the way to the Greek island of Simi (also spelled Symi) and the mountains of the Turkish mainland. Just to the south the beautiful Bay of St. Paul is located with its two lovely beaches.
Beaches have Lindos too, and after a warm trip up to Lindos Acropolis it is refreshing to jump in the Mediterranean Sea and afterwards enjoy a cold drink at one of the beach cafes.
---
Lindos Acropolis map
To the right of the map's center is the Acropolis, while Lindo's historic district is on the left. Zoomed out twice the beach in Lindos can be seen in the north, and the beaches of St. Paul's Bay to the south.