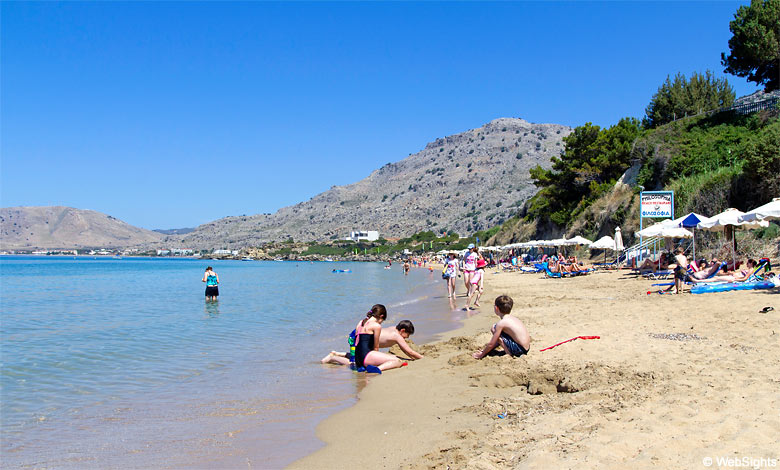 The charming holiday resort Pefkos is located on the east coast of Rhodes, only 3-4 km south-west of Lindos.
The beach in general
The main beach in Pefkos is a sand beach, which is 500 m long and quite narrow. The beach is relaxed and the view of the surrounding mountains is stunning.
The beach is covered with sand, but there may be a few pebbles here and there. The water is shallow and usually calm. It is possible to rent sun lounges and sunshades at the beach and there are also showers to wash of the salt water. There are parking spaces in the streets behind the beach.
In the western part of town, there are several nice beaches only a short walk away. Here it is also possible to rent sun lounges and sunshades and there are showers and toilets at some of them.
Child-friendliness
With its fine-grained sand and shallow water, Pefkos is very child-friendly. There are usually no waves as the beach is well protected.
Water sports activities
It is possible to rent small motor boats. But in addition to these, there are no water sports activities.
Beach restaurants
There is a fine selection of bars and restaurants close to the beach. Try, for instance, Philosophia, which is a charming Greek restaurant with a fabulous sea view.
Pefkos holiday resort
Pefkos is a small holiday resort with a quiet and relaxed atmosphere. In addition to its lovely beach, the town also has a fine selection of restaurants, bars and shopping facilities.
The hotels in Pefkos are mainly small, family-owned hotels. However, there are also a few large hotels, including the popular apartment hotel Island Blue Hotel.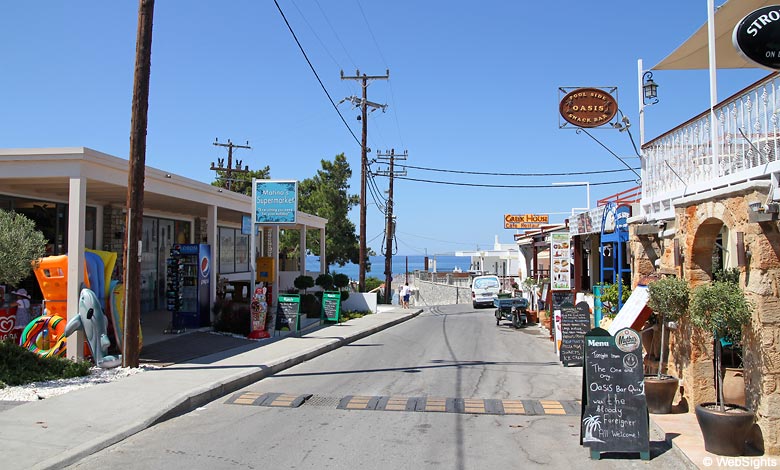 If you spend your holiday in Pefkos, this would be the perfect occasion to visit the charming town Lindos, which is one of the greatest tourist attractions in Rhodes.
---
Pefkos map
The map shows the long main beach right in front of the town. West of the town, there are several small and nice beaches, most of them with sun lounges and sunshades for rent.