Kamiros beach is situated on the north-west coast of Rhodes, approx. 30 km from the town of Rhodes.
The beach in general
The beach in Kamiros is located in beautiful, natural surroundings with mountains, trees, flowers and, of course, the lovely turquoise water.
The main beach is approx. 200 metres long and covered by sand, some places mixed with gravel. The water is clear with beautiful turquoise shades. The facilities include changing facilities, showers and toilets. Also, there is free WiFi at the beach.
Kamiros beach is one of the best beaches on the west coast of Rhodes. Its remote location means that there is usually plenty of room at the beach.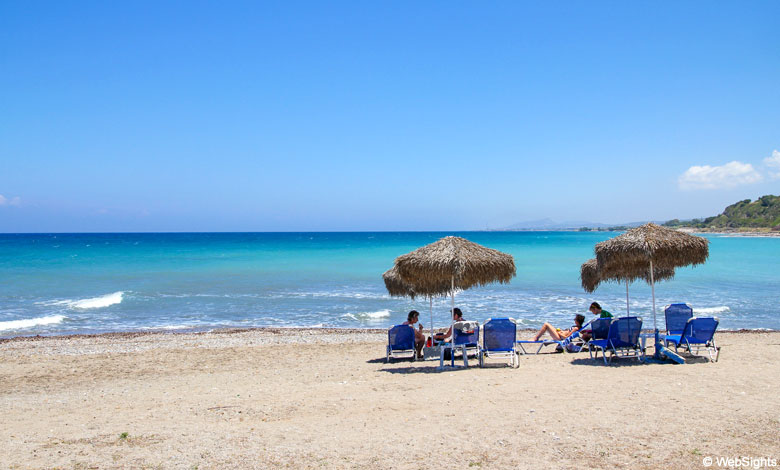 Child-friendliness
There is plenty of room to play at the beach, and there is also a small playground. One of the most child-friendly beaches on the west coast.
Water sports activities
There are no water sports activities.
Beach restaurants
There are three restaurants at Kamiros beach. One of them is a sea food restaurant, whereas the two others offer a variation of Greek and international dishes.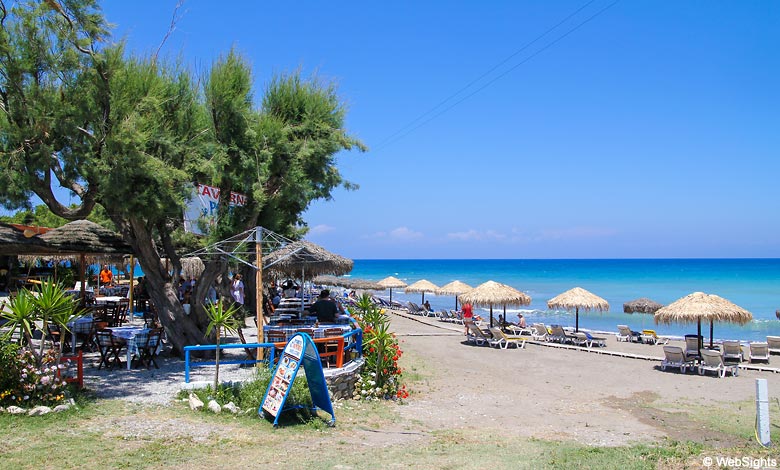 Nearby holiday resorts
The holiday resorts closest to the beach are Ialyssos and Ixia, which are located approx. 20 km to the north-east.
Less than 1 km from the beach, you will find the ruins of the almost 3,000-year-old town of Kamiros. The ruins are a must for everyone who has even the slightest interest in archaeology.
A few kilometres from Kamiros beach, you will find the village of Kalavarda, which is a beautiful, traditional Greek village.
---
Kamiros beach map