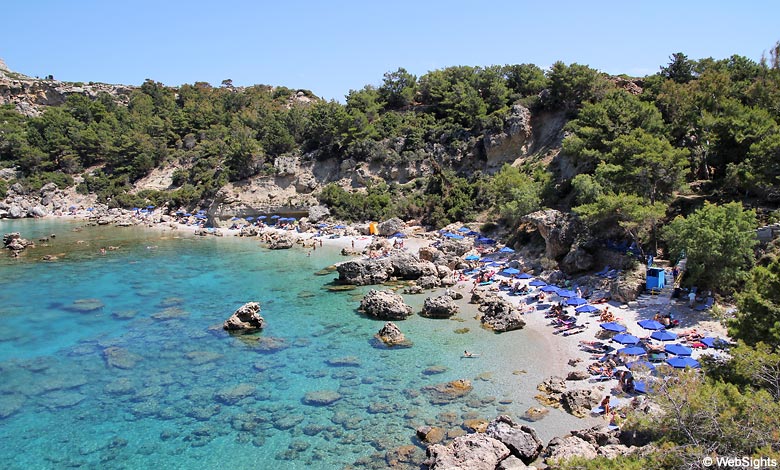 Anthony Quinn bay and beach is situated on the east coast of Rhodes, some four kilometres south of Faliraki.
After filming 'The Guns of Navarone' in Rhodes, the actor Anthony Quinn bought this isolated bay in order to create an international centre for artists and film-makers. However, the purchase was later annulled by the government.
The beach
Anthony Quinn beach is by many considered as one of the most beautiful beaches in Rhodes and the scenery is stunning.
A stairway is leading down to the narrow beach with sand, pebbles and some rocks at various spots. Services at the beach include sun beds, umbrellas and a restaurant. Parking is free of charge.
The picturesque beach is very popular and tends to get crowded in the summer months, especially in July and August.
Watersports
The crystal clear water and gorgeous underwater scenery makes Anthony Quinn bay one of the best areas in Rhodes for snorkeling.
Beach restaurants
A restaurant is situated by the stairway down to the beach.
Nearby resorts
The very small village of Ladiko is only 500 metres away. Ladiko has a hotel, a minimarket and a restaurant.
Faliraki is lying some four kilometres to the north of Ladiko.
---
Anthony Quinn beach map