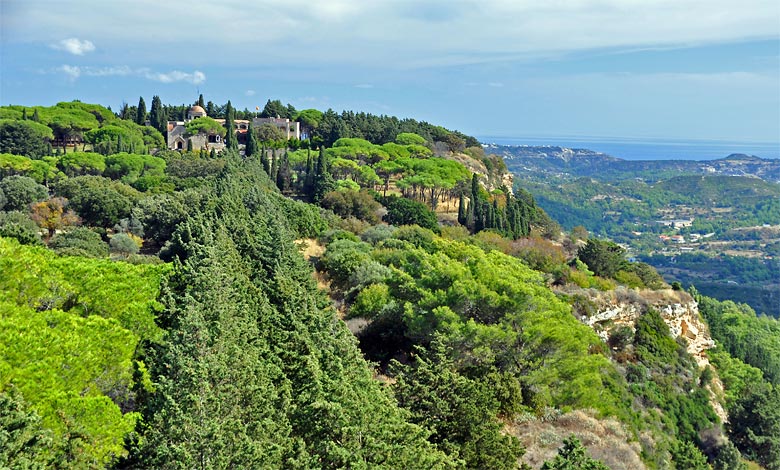 Mount Filerimos is located about 15 km southwest of Rhodes city. With a height of 267 meters, it might not be a very large hill, but there is a view of the island's highest mountain, the 4000 feet high mount Attavyros. On days of clear weather, it is even possible to see all the way to the coast of Turkey.
Throughout its long history, Filerimos has been an important fortress, and also served as a religious center. Back in antiquity, the Acropolis of Lalysos was located here, forming a high-level defense for the city of Lalysos. The word Acropolis, in all simplicity, means the highest city, and back in the day around 400 B.C. the Lalysos Acropolis was the third highest on the entire island of Rhodes. Today, it is still possible to admire the ruins of the ancient temple.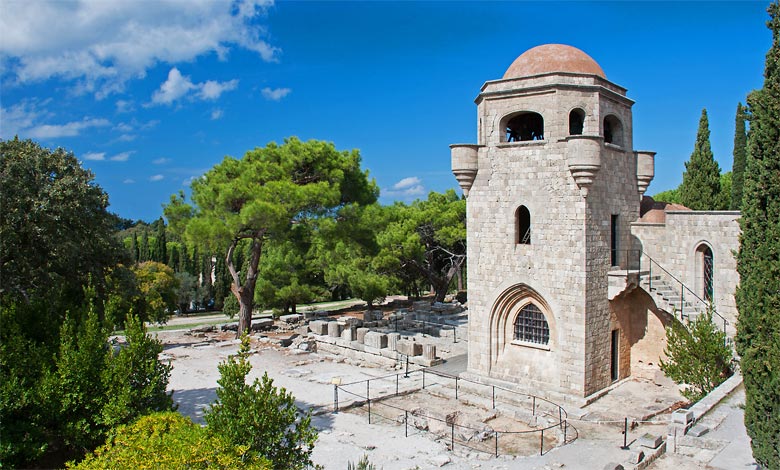 At the time, the mountain was called Achaia, but according to a legend, a monk from Jerusalem came in the 1200s, and the mountain was subsequently named after him. The monk allegedly carried a picture of a saint he placed in a small church near the top of the mountain. When the Crusaders took over the area in the 1400s, they built a monastery on the site. The monastery and the associated chapel are still there, and with the help of continuous renovations, the buildings are in good condition.
From the Filerimos monastery, the stone-paved path of Filerimos Calvary leads to a 55-60 feet tall cross. Along the beautiful path of cypresses there are 14 bronze symbols of Jesus' suffering. The impressive cross is built out of concrete, and inside the cross leads a spiral staircase up to the top of the cross. From here there is a unique view that no one should miss out on.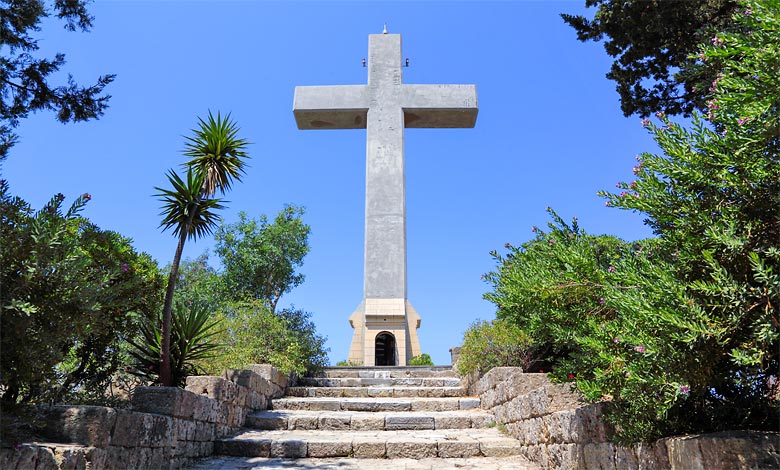 The entire scene is surrounded by a lovely park where wild peacocks like to show off their colourful feather splendor. All in all, Filerimos is a lovely experience and a unique mixture of history, culture and nature. So even if Filerimos in ancient Greek means friend of loneliness, it never gets boring here.
It is possible to drive the entire way by car and there is a large parking lot. More and more people, however, take the bike instead or hike up the mountain but note that the trip up the winding roads is relatively demanding.
---
Filerimos map