Elli beach is located at the northern tip of Rhodes, facing towards the east.
The beach
Elli is the main beach in Rhodes town and one of the most popular beaches on the entire island.
The shingle and pebbly beach is about 400 metres long and 35 metres wide, running from Mandraki harbour to Rhodes Aquarium. The water is crystal clear and usually calm.
Elli beach offers you all the amenities needed to enjoy a perfect day in the sun. It is organized with sun loungers, colourful umbrellas, water sports and very comfortable lounge bars. Parking is possible in the streets behind the beach.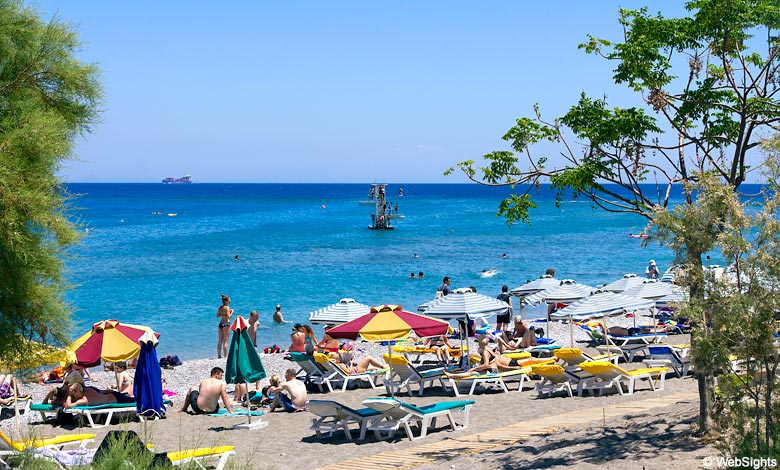 Child friendliness
The shingle and pebbly beach is not the best choice for the youngest children.
Water sports
Elli beach features a wide choice of water sports, including parasailing, banana boat, ringos, fly fish, crazy ufo and diving.
Beach restaurants
Along the beachfront there are restaurants, beach bars and a few cosy lounge bars serving cold refreshments along with chill out music.
Rhodes town
The modern part of Rhodes town has a busy street life with a multitude of shops, outdoor cafes and restaurants.
The two main squares are Koundourioti and Eleftherias. From here several interesting streets radiate towards the inner part of Rhodes town. The casino and the aquarium are both situated close to Elli beach.
The charming old town of Rhodes is one of the best preserved medieval towns in Europe and is surely the main attraction in Rhodes.
Those who rent a car have many amazing places to visit. Tsambika is one of the best beaches in Rhodes and Filerimos monastery offers a unique mixture of history, culture and nature.
---
Elli beach map