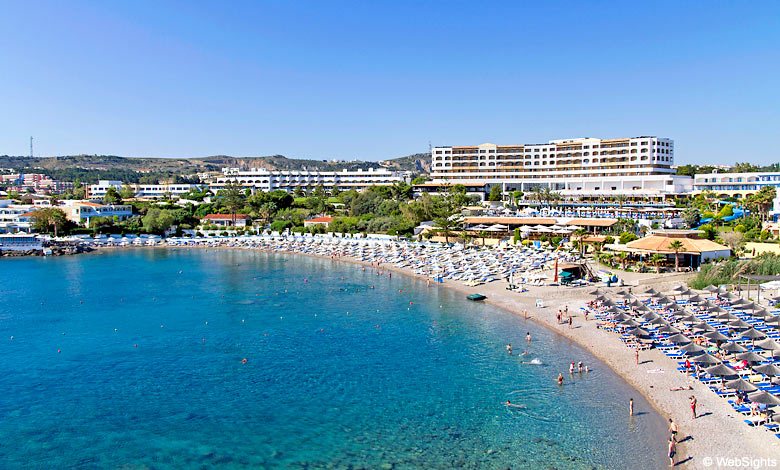 Kalithea is located on the east coast of Rhodes right between the capital Rhodes city and the resort town of Faliraki.
Those considering spending their vacation in Kalithea should take a closer look at the 5-star Hotel Eden Roc Resort. A family-friendly hotel that gets top ratings from guests and is located right next to the beach.
The beach in general
The relatively large main beach in Kalithea is beautifully located inside a bay that protects the beach from wind and waves the vast majority of days.
The beach is covered with coarse sand, which on the beach is mixed with pebbles. On the other hand, the water is incredibly clear and almost always quiet. Especially in the morning it is a great pleasure to take a swim in the bay.
The majority of the beach is equipped with sunbeds and umbrellas, and there is thus only limited space for those who would rather lie on their towels. Other facilities include showers and toilets. Parking can be found on the roads behind the beach.
About five hundred meters to the north is Kalithea's second major beach, officially called Reni 1.
Child friendliness
The many pebbles are not great for children, but with a pair of bathing shoes it is no problem. There is a children's playground close to the beach.
Watersports activities
The beach offers a broad selection of water sports activities, including jet skis, water skis and bathing rings pulled by a speedboat. The same goes for the beach a little to the north at the Sunwing hotel.
Restaurants by the beach
There is a delightful selection of restaurants by the beach, and several of them offer magnificent views of the beautiful bay.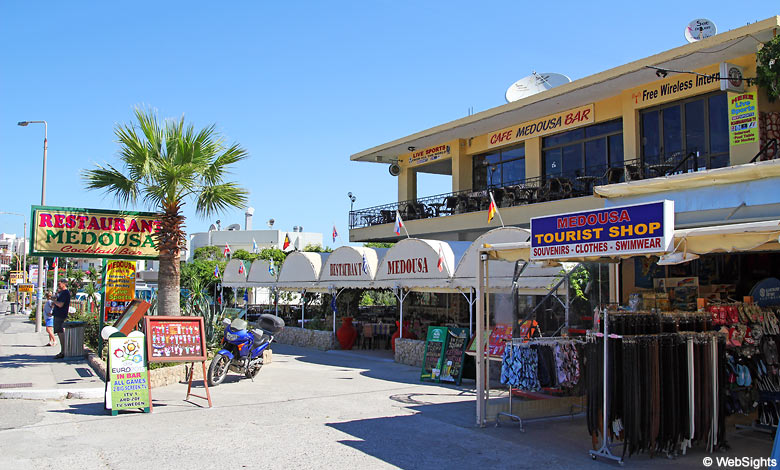 The town of Kalithea
Kalithea is situated in an elongated area from Kalithea Springs in the south to the large Sunwing hotel in the north. A total of 3-4 km of coastline, but Kalithea town itself is located close to the main beach. It is a smaller and rather quiet resort town that has a fine selection of restaurants, cafes and a few shops.
From Kalithea there are good opportunities for excursions, either by the local buses or by rental car. By car, Rhodes town, Faliraki water park and Tsambika natural beach are all less than 30 minutes away, so there are good opportunities for mixing up the vacation with various activities.
---
Kalithea map