Agathi strand ligger på østkysten af Rhodos i gåafstand til den hyggelige havneby Haraki.
Stranden generelt
Efter at have kørt et stykke på en støvet og snoet vej dukker den billedskønne Agathi strand op. I baggrunden er der et flot bjerglandskab.
Ikke nok med at omgivelserne er flotte, Agathi strand er i sig selv også en af de bedste strande på Rhodos. Den har fint gyldent sand, og krystalklart vand. Perfekt til at svømmeture, solbadning og afslapning.
Foruden flere strandcaféer, omfatter faciliteterne solsenge, parasoller, brusere og toiletter. Parkering er gratis.
Børnevenlighed
Agathi's bløde sand og lave vand gør stranden ideel til børnefamilier.
Vandsportsaktiviteter
Manolis Water sports tilbyder forskellige slags vandsport, men normalt er der ikke meget larm fra jet ski m.m.
Strandrestauranter
Tre strandcaféer tilbyder forfriskninger og lette måltid som burgere, sandwichs og den græske specialitet souvlaki.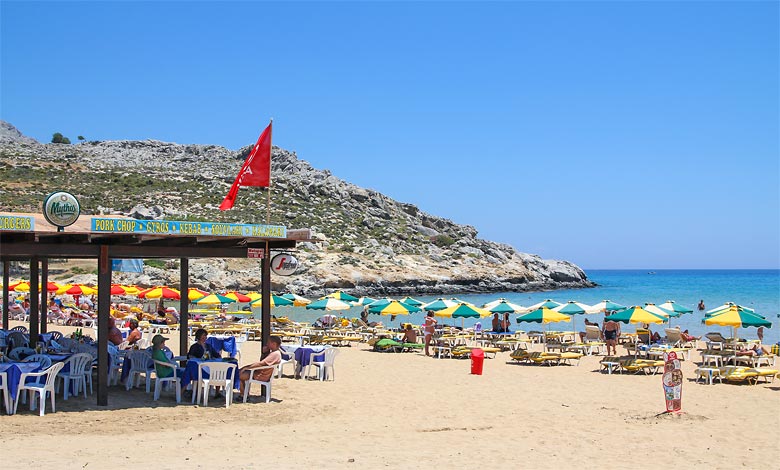 Feriebyer tæt på Agathi strand
Den charmerende by Haraki ligger kun to minutter væk i bil eller femten minutter til fods.
Haraki er en lille fiskerby med en stille og afslappende atmosfære. Der er nogle få hoteller, enkelte restauranter og en dejlig strand med sand og småsten.
---
Agathi kort